Are you looking for a contact form plugin that can easily integrate with MailChimp's email marketing tool? If so, you are at the correct place. I bring to you some of the best contact forms to use with Mailchimp.
A contact form can be termed as a professional way that allows website visitors to contact your website whenever they want. Additionally, it also helps in improving your website's brand value among the targeted audience. In simple words, a contact form is one of the best ways to collect data from your website visitors. It also allows you to ask for their name, phone number, email address, etc. A contact form can be handy for you if you are a blogger or an affiliate marketer.
Before we begin with the main topic, let's take a look at the MailChimp tool.
So, what is MailChimp?
The MailChimp was launched in 2001, and ever since, it has proved to be one of the most powerful email marketing platforms with more than 20 million users. MailChimp has powerful features that create professional-quality newsletters and also manages email marketing campaigns efficiently. With this tool, users can easily create engaging email content as well.
What is MailChimp Email Marketing?
The MailChimp Email Marketing includes features that allow us to build a subscriber list. It also allows us to track the performance of our campaigns. Various built-in social media integration like Twitter, Facebook, and LinkedIn supports this platform.
How to integrate MailChimp with the contact form?
Mailchimp undoubtedly is the most popular as well as prominent email marketing tool. This platform offers a great free plan with limited functionality. It is ideal for bloggers, startups, and small businesses. There is a premium option available as well if you want more control over email marketing. The premium option includes all the advanced features and automation. Now that we have a brief idea on MailChimp, let's check out the best contact forms where it is applicable.
WPForms
One of the best form builder plugins for WordPress is WPForms. Even if you are a beginner or an experienced coder, you can easily create a simple responsive contact form for your website. All you have to do is use the drag and drop form builder and improve your site's usability. If you use WPForm, you can easily create subscription forms, payment forms, comment forms, newsletter forms, and many other essential forms without writing any code.
WPForms gives you more control over your forms. You can also easily integrate this plugin with popular email marketing services such as Mailchimp, Zapier, Drip, AWeber, GetResponse, Campaign Monitor, and Sendinblue. WPForms plugin comes with two plans- free and premium plan options. The free version includes several primary form fields with limited functionality. You can start with the free version if you are a newbie. The premium plan is excellent for you if you want more features and control over form design and optimization.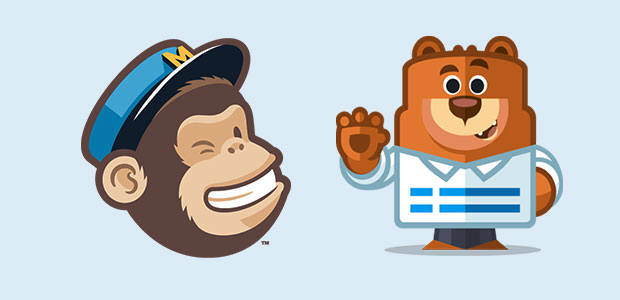 Formidable Forms
Formidable Forms is also amongst the best WordPress plugins. This platform offers you an initiative form builder to help you create any form for your blog or website. You can easily create feature-rich forms in just a matter of minutes without having to hire a developer, all thanks to Formidable Forms. Again, this plugin is the best option available at hand if you are looking for a powerful form builder that comes with advanced features for your WordPress website.
Formidable Forms has both free and premium versions. The free version is downloadable from the WordPress.org repository. The free version will only allow you to create a basic contact form with limited features. But you can upgrade to the pro version if you need advanced forms.
Gravity Forms
Gravity Forms is yet another powerful and also most trusted form builder plugin. This plugin can help you in building great-looking forms for your WordPress website. When you use this easy-to-use visual form builder, you can create all kinds of forms, like contact forms, quizzes, payment forms, surveys, newsletters, user registration forms, and many more.
These plugin forms offer more than 30 ready-to-use form fields. So you can easily choose the fields you want to use and create responsive forms for your WordPress website. Additionally, Gravity Forms gives you complete control over user management and form customization. Gravity Forms offers a great user experience (UX) and a wide range of addons. It also allows you to integrate your forms with your favorite third-party tools such as MailChimp, Dropbox, Stripe, Trello HubSpot, Paypal, and Zapier easily.
Gravity Forms provide top-notch customer support, so if you need any help, you can reach out to them with a support ticket. It is a popular WordPress plugin that allows you to create responsive forms for your website or WordPress. And when you integrate it with MailChimp, you can improve your website's performance.
Ninja Forms
Another popular WordPress plugins available in the market to create beautiful forms for your site is Ninja Forms. This plugin has more than 20 million downloads. It is also one of the best-selling plugins that come with advanced features and top-class customer support.
Ninja Forms has a free version that is downloadable from the WordPress.org repository. The free version has certain limitations as it only gives you some primary forms with limited functionalities. So you can switch to the Pro version if you need advanced form options that offer top-notch features with best-in-class customer support.
JotForms
JotForm is yet another great option to create forms on your WordPress website or site. This plugin Platform has more than 10 million users worldwide. This plugin platform was founded in 2006 with a simple idea, i.e., to help people quickly and easily create online forms without knowing any programming skills or prior knowledge on coding.
JotForm has a powerful drag and also a drop form builder. It allows the users to create great-looking forms for your website or blog. With the help of this builder, you can easily create forms such as payment forms, contact forms, inquiry forms, lead generation forms, registration forms, and many more.
For all those who work with complex business forms or processes, JotForm is a great tool for you. Similarly, it is also quite effective for all those who might use it for more precise needs. JotForm offers a wide range of app integrations to improve your business performance that can make your workflow even better. This platform has well over 200 apps available with easy integration. Some of them are MailChimp, Zoom, Dropbox, OneDrive, Slack, HubSpot, Airtable, Salesforce, Zapier, and many more.
Contact Form 7
Yet another best contact form builder plugins for WordPress or bogs is Contact Form 7. This plugin has more than 5 million active installations on WordPress. Contact Form 7 is a very simple, secure, and free contact form solution for your WordPress website or blog needs. With the help of this plugin, you can easily create contact forms on your WordPress posts and pages using only the shortcode, i.e., contact-form-7. Since it can save you tons of time, Contact Form 7 is undoubtedly an excellent option for you. Additionally, you also don't have to fiddle around with CSS or HTML email code. The Contact Form 7 plugin comes with many unique features that enable you to improve your website performance.
There is a powerful plugin option available to integrate Contact Form 7 with MailChimp. It can help you manage your form data in Mailchimp easily. This integration allows you to take complete control of user activities on your web contact form.
TypeForm
One of the best form builders for conversational forms and surveys is the TypeForm. This plugin platform offers a very intuitive and straightforward drag-and-drop form builder with numerous features to create any form, like registration forms, survey forms, contact forms, comment forms, and many more. TypeForm also offers a wide variety of pre-designed form templates. This feature can help you save both times and also help you in improving your business performance.
Conclusion
So, these are the seven best contact forms to use with Mailchimp. There are more options available in the market, but I only discussed those that the market experts highly recommend. No matter your business needs, you can always go for any of the form plugins mentioned above. It mainly depends on your budget and choice. I highly recommend you start with WPForm Builder. WPForms comes with all the major pro features one needs, and the price is very competitive too.

Read More
How to Install Google Analytics in WordPress 11 Reasons to Use a Contact Form | WPForms