If you wish to create an optimized e-mailing list and are looking for a conversion tool worth your money, OptinMonster is the one to choose. Currently the best in the market, this tool can facilitate the implementation of strategies especially designed for you to collect more leads.
Professional bloggers are increasingly viewing e-mail as the most cost-effective way to reach out to their users. Hence, it is now considered to be the most powerful online marketing tool. And this is where plugins like OptinMonster come into play to provide a proper lead generation toolkit. Observation is that 70- 80% of visitors who visit the website don't intend to return. However, a well-strategized lead capturing plugin can convert those visitors into subscribers and paying customers.
Although there are several options available in the market available for collecting e-mails, OptinMonster is the best lead generation plugin according to thousands of users. It's a comprehensive conversion optimization software that helps to grow your e-mail list, increase sales as well as your revenue. It also helps create various types of popups and opt-in offers that connect directly to your good e-mail marketing service. It is also compatible with all e-mail marketing systems and website platforms. Hence, you can create and customize attractive and appealing lead capture forms using an extensive template library offered with the plugin without any coding.
Several features of the OptinMonster make it a premium tool for e-mail marketing. Below are a few of those:
Types of Campaigns
OptinMonster features the highest and the widest variety of campaign types to cater to all kinds of clients. Opting for this offer will help you stick to one software and only focus on designing them to your website's likes. It is especially beneficial for small and medium-size businesses that need all kinds of help to convert their general traffic into e-mail subscribers. These campaigns are the following:
Lightbox Popup:
This feature lets users create eye-catching popup campaigns to capture the visitor's attention. It does so by building an e-mail list and sharing targeted ad messages delivered at the right time with faded backgrounds.
Exit Intent:
The exit-intent technology helps to identify the user's behavior and prompt them with a targeted campaign right at the time that they are going to leave the blog. It helps convert around 4 to 5% of additional users into e-mail subscribers and then later pay customers.
Fullscreen Welcome Mat:
This feature helps capture the visitors' attention as soon as they land on the website by a website splash screen, displaying new products, services, offers, and coupons, which have helped improve conversions by 75% lately.
Floating Bar:
The floating header and footer bar is a stick and easily visible campaign, and it works by attaching it to the top or bottom of the webpage and remains there as long as the visitor scrolls on the site.
Slide-in Scroll Box:
This campaign helps display the popup elegantly at the bottom of the right corner of the webpage and is specifiable as to how below the visitor will scroll that he/she can see the scroll box.
Inline Forms:
Inline Forms in OptinMonster encourage visitors to subscribe when they are already committed to reading the website's content.
Easy Customizable Campaigns
With its drag and drop campaign editor, you no longer require to have a team of developers. Its pre-built templates can create new popups by choosing anyone from them and getting a quick start. You can also customize these templates using the drag-and-drop editor and modify styles and rearrange every element and also remove an element if required. You can further create a 100% original campaign according to your needs on your own with the Canvas template available in this software.
Precise Targeting Strategies
The advanced targeting and trigger features of Optinmonster are powerful tools to optimize your campaigns to specific content and users. It allows you to target and segment your audience and give you more flexibility with its rules of triggering, targeting, personalization and e-commerce.
Detailed Analytics Report
OptinMonster presents useful analytics for all of your popups and also gives you the option to efficiently run A/B tests to test different popups against one another. Different content, headlines, layouts, slides, and campaign triggers can be tried by a split test to see which one is converting the best. It takes out a detailed account of how visitors interact within the period you want to know about.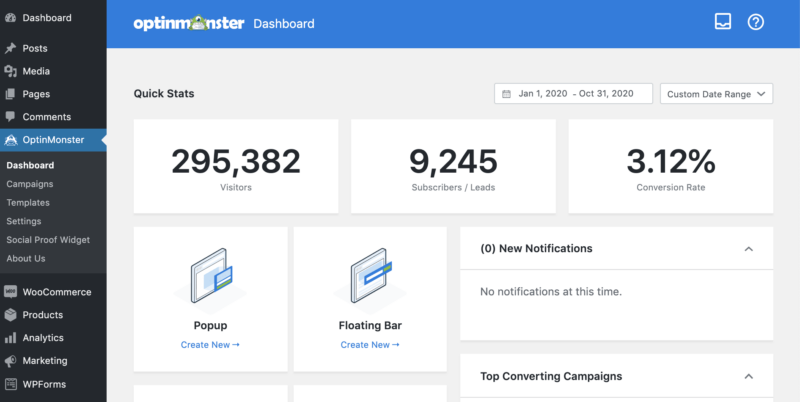 Now that we know quite a lot about the features that stand out in the OptinMonster software let's talk about the prices. With offers and discounts presented frequently, it is good for you to check out the updated prices according to your needs. They provide two kinds of billing annually and monthly to cater to all kinds of clients. They also offer all of the users a 14-day unconditional money-back guarantee to present their confidence among all.
The above features display a solid and appealing software tool for all kinds of e-mail listing needs. It can be the perfect way to increase your website's conversion rates and generate more and more leads progressively.

Add a Comment

    [wpforms id="3827"]